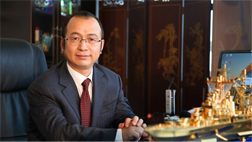 President's Remarks
On behalf of all the staff, as the President of BIT Congress, I would like to express our sincere gratitude to you for your consistent support and close attention; for the abundance supports and helps from our friends and governments at all levels BIT Congress has received since our establishment,.

I studied and worked in America for 12 years, but my heart was always tied to my country with my sincere hope to witness her prosperity. I had a dream that one day I could devote my enormous knowledge and a large number of scientific and technological resources accumulated oversea to the booming high-tech industries in China; therefore I decided to return home and serve my hometown, my country.

In 2000, I read the official document from Chinese State Council for the encouragement of overseas Chinese scholars' return and I realized it was the time to make my move. The path of returning is rough and I realized that starting an enterprise was not as easy as I thought, but there was no regrets choosing to be back. Every time when I see how my business grow and more and more talents joining our company, I know that I made the right decision. Our small seed of idea that we planted has been grown into towering tree in China's soil, and its fruits of world renowned conferences.

With the numerous encouragement and supports from our society, and the expectation we are bearing on our shoulders, in return, we shall never forget them. We must work harder for the prosperity of our country and people; we should create more growing space for our employees; with alliances and partnership we built, to provide the best services for our clients and show sincere gratitude to our supporters and friends.

As an entrepreneur and scientist, my team and I will perseveringly endeavor to seek more opportunities, reach into our potential, carry on our company spirit and lead our company towards a better future.
President's Introduction
Dr. Xiaodan Mei, President of BIT Congress, has pursued his overseas study in University of Texas and Boston University since 1990. During 12 years' study in America, he had been the Chairman of Chinese Student and Scholar Association in University of Oklahoma from 1992 to 1993 and was awarded Outstanding Leadership Honorary Certificate by the Consulate General of PRC in Houston. He established "New Continent" Newspaper and SAPA-NE. In 1996, he got Ph.D. degree from the Department of Biochemistry in the University of Oklahoma. From 1996 to 1997, he was a post doctor at Proscript, which founded by the Father of Molecular Biology, Professor Dr. Tom Maniatis at Harvard University. From 1997 to 2000, he was a Scientist at Biogen-Idec, the Senior Scientist at Anadys and also the Senior Research Scientist working in the Merck-Biogen project.

Dr. Xiaodan Mei actively responded to the call of Chinese government for the encouragement of overseas Chinese scholars' return and started his business in 2001 in China. In year 2003, BIT Congress was founded. With 10 years' persistent hardworking, BIT Congress has become the Champion of High-end MICE in China. Dr. Mei has been a full Professorship at Dalian Institute of Chemical Physics, Chinese Academy of Sciences, and the formal Member of the Board of Chinese Society of Biotechnology. He is also the Standing Director of China Medicinal Biotechnology Association, Vice President of China Chamber of International Commerce Dalian Branch, Deputy Director of Petroleum Knowledge Magazine, Director of State Administration of Foreign Experts Affairs Dalian Division, Visiting Professor of Jilin Agricultural University, Technology Consultant of Zhongshan District, Dalian, and President of World High Technology Society, etc.. He has published 6 English articles and 3 Chinese articles; with 12 patents applied, and 5 of them were patented. As the President of BIT Congress, and the chairman of the organizing committee, Dr. Mei has organized and hosted numerous international conferences.