After nearly a year's meticulous preparation, BIT's 7th Annual Conference of AnalytiX-2019 (AnalytiX-2019), with the theme of "Exploring Innovative Advances and Applications", was successfully held in Singapore on April 12-14, 2019. It was hosted by BIT Group Global Ltd., and supported by American International Standards Institute; German Crystallographic Society; Polish Crystallographic Association; Center for Intelligent Chemical Instrumentation, Ohio University, USA; European Crystallographic Association, and Institute of Analytical and Bio-analytical Chemistry, University of Ulm, Germany. This conference attracted nearly 300 professional speakers and audiences from 35 countries and regions joining it.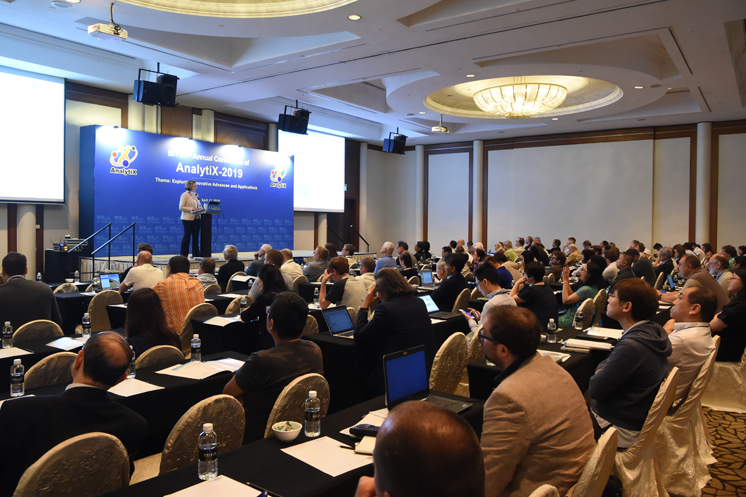 Opening Ceremony & Keynote Forum
The Opening Ceremony and Keynote Forum of AnalytiX-2019 took place on Friday morning (April 12, 2019). Dr. Elizabeth (Lisa) A. H. Hall, Professor and Vice President of Queens' College, University of Cambridge, UK moderated the two important activities. The invited guest speakers, Dr. Hian Kee Lee, Fellow, Singapore National Academy of Science; Professor, National University of Singapore, Singapore and Dr. Boris Mizaikoff, Chaired Professor and Director of Institute of Analytical and Bioanalytical Chemistry, University of Ulm, Germany gave the warmly Welcome Address at the Opening Ceremony, respectively. On behalf of our committee, Dr. Lee and Dr. Mizaikoff expressed great gratitude to the presence of all delegates, speakers and participants to AnalytiX-2019 being held in Singapore for the first time and particularly wished all the guests a memorable stay in Singapore.
| | | |
| --- | --- | --- |
| | | |
| Dr. Elizabeth (Lisa) A. H. Hall | Dr. Hian Kee Lee | Dr. Boris Mizaikoff |
Followed by the Keynote Forum, our plenary speakers were the world-leading scientists who have been involved in the research work on analytical and chemistry for many years. And they were respectively: Dr. Susan Schorr, Vice President, German Crystallographic Society; Professor, Free University of Berlin, Germany; Dr. Roman Kaliszan, Full Member of the Polish Academy of Sciences and the Polish Academy of Arts; Professor, Medical University of Gdansk, Poland; Dr. Elizabeth (Lisa) A. H. Hall; Dr. Hian Kee Lee; Dr. Nigel J. Clarke, Vice President for R&D, Quest Diagnostics Inc., USA; Dr. Dr. Michel Mikhail, International Expert in Biosimilars, Global Expert in Regulatory Affairs, Germany. Those keynote speakers presented very excellent speeches and warmly discussed with the audiences during Keynote Forum.
| | | | |
| --- | --- | --- | --- |
| | | | |
| Dr. Susan Schorr | Dr. Roman Kaliszan | Dr. Nigel J. Clarke | Dr. Dr. Michel Mikhail |
AnalytiX-2019 consisted of 27 Parallel Sessions under 7 Tracks, around 200 oral speeches covering most of the hottest topics on Mass Spectrometry, Chromatography, X-ray Spectroscopy, Electroanalytical Chemistry and Electron Microscopy, 6 exhibitors, 10 posters, and etc. In-depth discussions and exchanges among the delegates were made during the whole meeting.
| | | | |
| --- | --- | --- | --- |
| | | | |
| Welcome Banquet | Poster Section | Exhibitors | Registration Desk |
Before, during and after the conference, we received the warmly support and valuable suggestions from the delegates towards the planning and organizing the next conference. Depending on the invaluable and precious experiences, we are confident that BIT's 8th Annual Conference of AnalytiX-2020 would be much better than before.